Last Updated on May 24, 2022 by admins
Out of all the pressure washers on the market today, the Karcher K5 Premium Pressure Washer is one of the best pressure washers from the Karcher lineup. 
Living in Seattle, moss buildup is inevitable during the rainy season. And let's face it: it rains in Seattle almost year-round. It's almost always rainy season. Moss made my front porch and driveway look unclean and messy. 
I used many products and many ways to remove moss, dirt, and grime from my driveway and other areas around the house. If I could go back in time, I would have used the Karcher K5 pressure washer. There are so many uses for a pressure washer that I didn't realize that would help homeowners keep their homes looking clean and sharp. Here is the Karcher K5 Premium Pressure Washer review.
Things To Consider: 
The K5 Premium Pressure Washer has so many uses around the house! Some uses of this pressure washer include cleaning things from bicycles, to house siding and fences, and even for cleaning pools and patios! The possibilities are endless. For more ideas of what to use this pressure washer, check out the official Karcher website!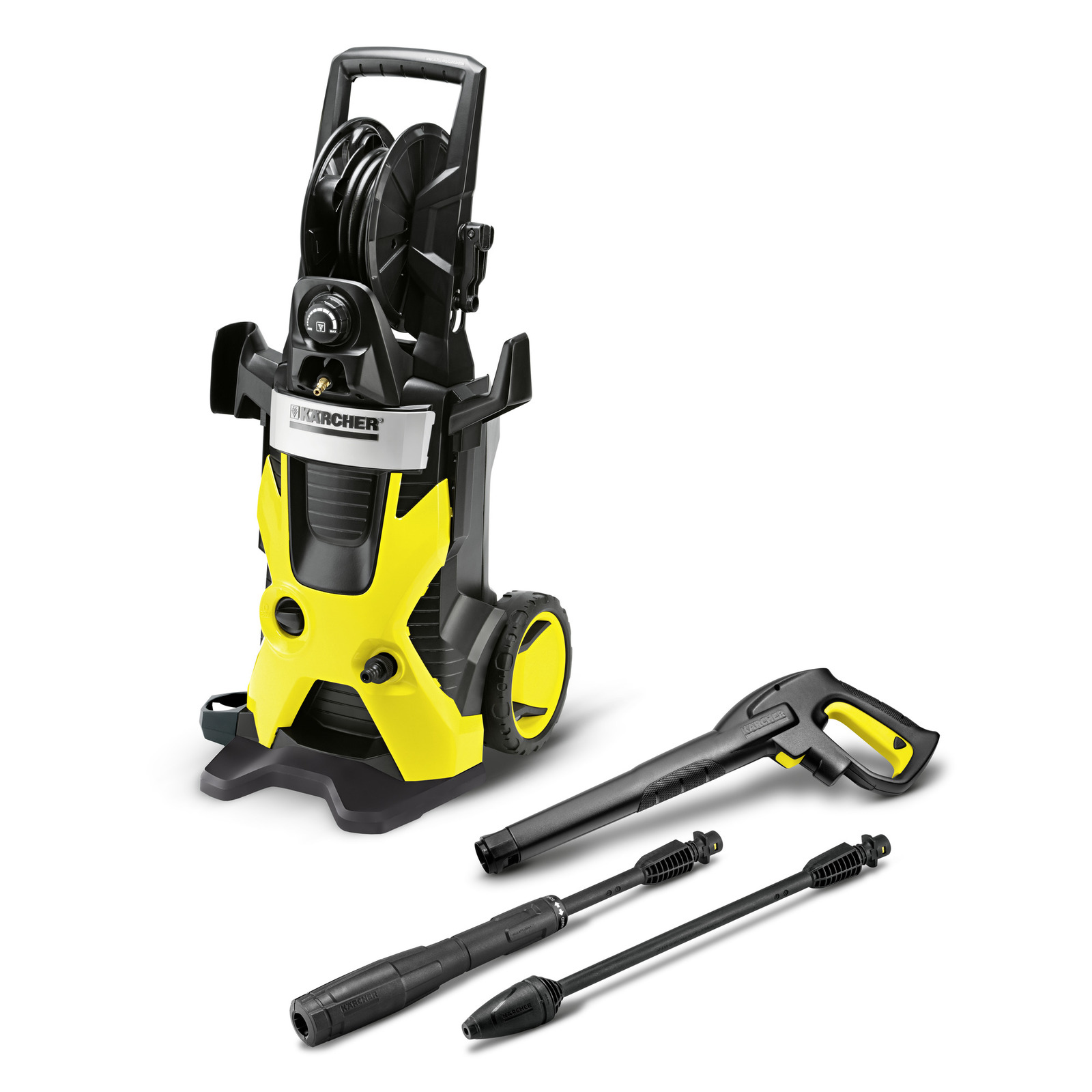 This is a powerful tool for any person who wants to avoid paying heavy fees for others to do clean something when they can do it themselves. Powerwashers may seem intimidating, but after some time and patience, you can get your home clean in no time.
Before purchasing this product, a buyer should review and consider the available accessories. This pressure washer includes a variety of things, but a buyer should check to see if they need to buy an extra accessory or two to get their specific job done.
What Does The K5 Premium Pressure Washer Have To Offer?
The Karcher K5 Premium Pressure is one of the three pressure washers in the K5 line. These washers are for the demanding and constant jobs around the house. This powerful machine removes stubborn buildup and can clean up to 450 sq. ft per hour. That's a lot of pressure! Unlike its competition (and people), this machine is made for pressure and has resilient strength. 
This product includes many features, including 
High-Pressure spray gun

A 25-foot long pressure hose

Adapter Hose

Water Filter

Cable winding

Operation manual and instructions (Can also be viewed online)
This machine has 2000 PSI and has a powerful water-cooled motor. Many competing power washers have air-cooled motors. The difference in the K5 Premium means that this washer is much quieter but with the same power. It also preserves the life and quality of the motor.
For more information regarding water-cooled motors, check out this
site.
Pros:
A quiet machine- thanks to its water-cooled motor. 

Medium price point- Has the same PSI as its more expensive counterpart. 

Many accessories and supplies are available through the official Karcher website

2 Year Limited Warranty
Cons:
Repairs are a little more complicated-  You would need to visit an authorized service center to get things repaired

You may need to buy a longer hose, depending on your project. A separate 50-foot hose can be purchased.
Features And Benefits
Variety of Nozzles for Your Job
Every task is different, but the Premium Pressure washer has what you need to get it done. Included are the Vario Power Spray wand and Dirtblaster spray wand. The Vario Power Wash has adjustable pressure/ The Dirtblaster wand does what it sounds like it does. It increases pressure to deep clean your yard.
Small and Compact Power
Measuring  34.33 x 13.07 x 16.77 inches, this power washer is easy to take with you around the house or around the neighborhood. Wherever you need to go, you can be sure you'll have enough space to this pressure washer with you. This is also a light pressure washer, weighing 32 pounds
Hose Reel
Do you remember how annoying it is to wrap the cord of your vacuum cleaner after vacuuming the carpet? It's definitely an arm workout. Now imagine how that would feel with a 25-foot hose. Luckily, the K5 Premium washer comes with a pressurized hose reel that takes that heavy work away from you. 
Doesn't Overheat
Because of the water-cooled motor, this washer does not overheat. Even if you have been working for hours, this motor will not fail you. The only sound the washer makes is the sound of the water hitting the pavement. It is very convenient if you live in a crowded neighborhood or if you are working in the early hours in the morning. You can work peacefully knowing you won't wake anyone up.
Alternative Products
If you want to broaden your options in searching for a pressure washer, here are a few alternatives you may find of interest:
The previous version of the K5 version in this review, this pressure washer. A few key differences from this washer to its successor is the washer is lighter in size, weighing in at only 28 pounds. Four pounds lighter than 5K Karcher Premium. They both include versions of the same Vario Power and Dirtblaster spray wands. This has a little less PSI (Pound-Force per Square Inch)
This pressure washer has a 2030 PSI, which is stronger than K5 Premium. This washer also comes with a two-year, no-questions-asked warranty. This also has a shorter high-pressure hose. It is only 20 ft. long
This pressure washer has a 2,300 PSI, the highest of the listed washers. This electric pressure washer has a three-year warranty, in comparison to a two-year warranty that the K5 has.
Find more information about Ryobi Pressure Washer Review
Conclusion
The Karcher K5 Premium Pressure Washer is quiet, compact, and quite a powerful washer. It is easy to take with you wherever your job takes you. If you need to get rid of stubborn dirt, moss or need to deep clean, this pressure washer is up for the task
Click here to check out this product. 

Learn more about Best Commercial Pressure Washer in 2022